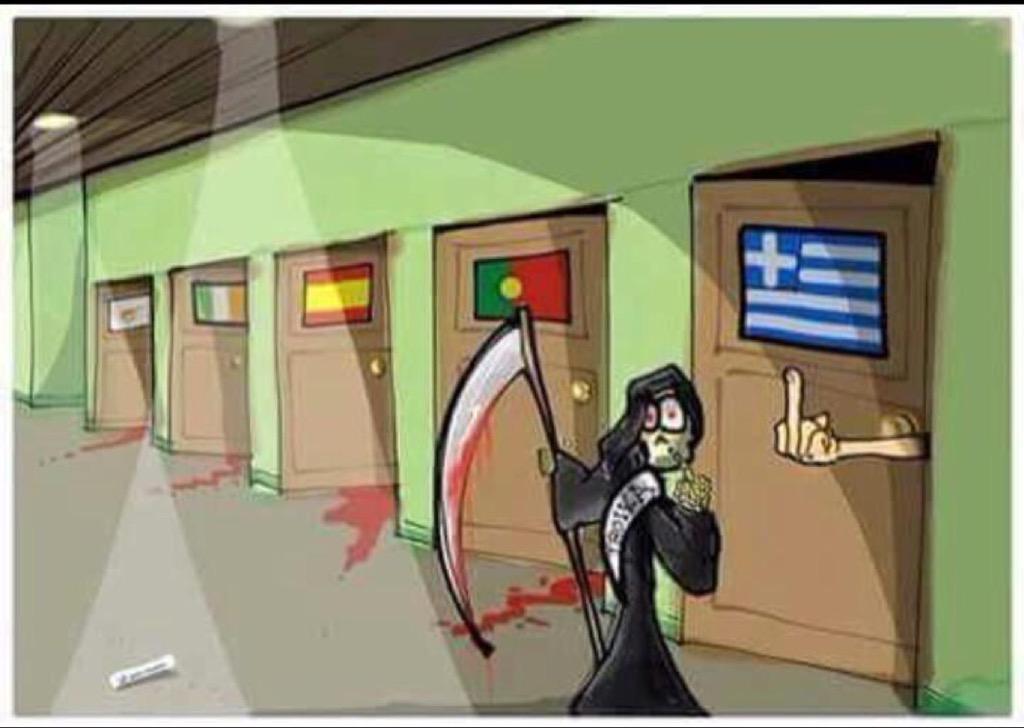 Gotta admit, I haven't been as excited about the result of a vote, of all things, as I am about the Greek referendum rejecting continued austerity through forced imperialist-capitalism. Here's a brief roundup of articles explaining the situation that I liked, along with my own commentary sprinkled in for good measure.
Let's start with an unusually easy-to-read and easy-to-understand article from Business Insider, whose headline is all but shouting from the rooftops in all-caps. Their article, GREECE JUST TAUGHT CAPITALISTS A LESSON ABOUT HOW CAPITALISM WORKS, reads as follows:
Greece has effectively voted to default on its debt to the IMF [which is the International Monetary Fund, basically a gigantic multi-national bank controlled by Western military powers like the USA] and the EU[, in other words, Greece voted to outright defy demands that it pay back money it borrowed], and it is a massive defeat for Germany's Angela Merkel and the troika ["troika" is a nickname given to the three major capitalist banking institutions, of which the IMF is one] she led, which insisted there was no way out for Greece but to pay back its massive debts.

The vote is huge lesson for conservatives and anyone else who thinks this is about a dilettante government of left-wing idealists who think they can flout the law while staging some kind of Che Guevara-esque dream:

Wrong.

This is what capitalism is really about.

From the beginning, Merkel and the EU have operated from the position that because Greece took on debt, Greece now needs to pay it back. That position assumed — bizarrely, in hindsight — that debt only works one way: if you lend someone money, then they pay it back.

But that is NOT how free markets work.

Debt is not a guarantee of future payments in full. Rather, it is a risk that creditors take, in hopes of maybe being paid tomorrow.

The key word there is "risk."

If you're willing to take the risk, you'll get a premium — in the form of interest.

But the downside of that risk is that you lose your money. And Greece just called Germany's bluff.

The IMF loaned Greece 1.5 billion euros, due back in June, and Greece isn't paying it back. Greece has another 3.5 billion due to the ECB in July, and that looks really doubtful right now. [The ECB is the European Central Bank, the bank that controls the Euro currency; the ECB is basically Europe's version of the Federal Reserve, i.e., "the Fed," that thing Libertarians hate.]

This is how capitalism works. The fact that it took a democratically elected government whose own offices are adorned with posters of Lenin, Engels and Guevara to teach this lesson to Germany is astonishing.

More astonishing still is that Merkel et al knew Greece could not pay back this debt before these negotiations started. The IMF's own assessment of Greek debt, published just a few days ago, states: "Coming on top of the very high existing debt, these new financing needs render the debt dynamics unsustainable …"

"Unsustainable"! Germany's own bankers knew Greece couldn't pay this back. And yet Merkel persisted.
At this point you're probably wondering, "Why on God's green Earth would Merkel and other European political leaders agree to loan money to people they knew could not pay it back?" Well, do y'all remember that big "global financial crisis" in 2008? Yeah, so, about that:
There is another key fact that the Greeks are keenly aware of (but which everyone else has forgotten). This debt was initially owed to private investment banks, like Goldman Sachs. But the IMF and the ECB made the suicidal decision to let those private banks transfer that debt to EU institutions and the IMF to "rescue" Greece. As Business Insider reported back in April, former ECB president Jean-Claude Trichet insisted that the debt transfer take place:

The ECB president "blew up," according to one attendee. "Trichet said, 'We are an economic and monetary union, and there must be no debt restructuring!'" this person recalled. "He was shouting."

["Debt restructuring" is a euphemism that basically means the terms of a loan that was already made gets changed, usually to benefit the borrower, which has happened countless times throughout history and dates back to Biblical times, but that capitalist bankers basically never want to admit is possible because it means they don't get their money back.] The result was that the ECB made this catastrophically stupid deal with Greece, according to our April report:

And so there was no restructuring agreed for Greece. The country paid off its immediate debts to the private financial sector — investment banks, basically — and replacement debt was laid onto European taxpayers [that is to say, instead of forcing the private sector's big banks to account for their own financial losses, the financial records/"agreements" were altered so that the Greek government and thus the Greek taxpayer was held responsible for replacing the money that the non-Greek/big bank creditors lost]. The government [of Greece—which at the time was controlled primarily by corrupt conservatives, more on that in a moment—]agreed to a package of harsh government spending cuts and structural reforms [in other words, cutting social services, things we think of as "food stamps" and the like, and making daily life even harder for the already-poorest Greeks] in exchange for loans totalling €110 billion over three years.

Trichet made a colossal, elementary mistake. [Or so Business Insider likes to characterize it. But was it a "mistake," or an economic power grab that ended up as an overreach thanks to Greek defiance? Hold that thought!] The right place for risky debt by definition is in the private markets, like Goldman. The entire point of private debt investment is that those creditors are prepared for a haircut. The risk absolutely should not be borne by central banks who rely on taxpayer money for bailouts.

In fact, had Trichet made the opposite decision — and left the Greek debt with Goldman et al — then today's vote would be a footnote rather than a headline in history. "Goldman Sachs takes a bath on Greek debt." Who cares? Goldman shareholders and clients, surely. But it would not have triggered a crisis at the heart of the EU. [In other words, if the ECB had let Goldman Sachs eat the losses they, themselves, brought on themselves, rather than demanding that already-poor countries like Greece make up for the lost revenue on Goldman's behalf, Greek's defiance today would not be a big deal, obviously. But since the ECB insisted that the public sector, i.e., regular working people, pay back the capitalist bankers's own lost money, Greek's vote to defy doing so is a major blow to the Troika's power.]

Now Italy, Spain and Portugal are watching Greece closely, and thinking, hey, maybe we can get out of this mess too.
Not just the other EU states, though! The rest of the world, too. Like, say, American students saddled with student loan debt. After all, if an entire country can just refuse to pay back money it supposedly owes—even though they didn't really owe any money to start with (it was really Goldman Sach's debt), an important detail we'll talk about in more detail a little later—why can't you or I just refuse to pay back our student loans, or our credit cards? What's stopping us from just saying we won't pay back money we borrowed? It's clearly not impossible to do just that! Look at what Greece is doing!
But of course, since this article is in Business Insider—which is basically capitalism's version of a fetish magazine—despite being a fantastic summary of the history, its conclusions take a bizarre turn for the demagogically extreme against Greece's defiance, predicting disaster for the Greek people:
Now, before we all start singing "The Red Flag" and breaking out old videos of "The Young Ones" in celebration, let's inject a note of realism. Greece isn't actually a country full of crazy socialists who don't understand how the FX [that is, Foreign eXchange] markets work. In fact, a huge chunk of its tax collection problems[, which is one of the reasons the Greek economy has been shrinking for years] stem from the fact that there are two and a half times more self-employed and small business people in Greece than there are in the average country. And small businesses are expert at avoiding tax, Greece's former tax collector told Business Insider's Mike Bird recently. [Which may be true, but let's not forget, dear capitalist wet dream magazine, that large businesses are even more expert at avoiding taxes, duh.]

Conservatives who hate paying taxes and who urge small businesses to pursue tax avoidance strategies take note: Your dream just came true in Greece.

If Greece was more socialist — more like Germany, with its giant corporations that have massive unionised workforces paying taxes off their payrolls — then tax collection would be a lot higher in Greece. [Eh, maybe, because let's remember that tax collection, just like banking, is actually a "voluntary compliance" system, because agencies like the IRS don't actually have a budget for hiring people to force citizens to pay taxes. Instead, the government, through a combination of its IRS auditors and law violence enforcement arms, can only retro-actively punish people for not paying taxes. This distinction matters because it's actually exactly the same model as credit cards and debts: if you loan someone money and they don't or can't pay it back, what can you do about it? Sure, maybe you can afford to hire someone to break their legs, but the point is that, in America, the IRS literally can't afford to do that to everyone who pays taxes. They can only afford to commit violence again (in the form of incarceration) or violently threaten, a few people who they are also able to catch not having paid taxes sometime in the past. And what if you loan money to an entire country and that entire country collectively declares it just won't pay you back. What if every citizen of that country collectively decides, en-masse, they just won't pay taxes anymore? Sound familiar to any Americans celebrating Independence day this weekend? No? Does a tea party sound good to you right about now? As the ruling government, what are you gonna do? Break the legs of every citizen in that country? Nuke it? Srsly, what you gonna do?]

Greece is now likely an international pariah on the debt markets. It may have to start printing its own devalued drachma currency. It will have no access to credit. Sure, olive oil, feta and raki will suddenly become incredibly cheap commodities on the export markets. Tourism in Greece is about to become awesome. But mostly it will be awful. Unemployment will increase as Greece's economy implodes.

But the awfulness will be Greece's alone. Greece is now on its own path. It is deciding its own fate.

There is something admirable about that.
Told you: Business Insider is predictably pessimistic about the Greek people's own ability to make due without invading capitalist banking systems, almost to the point of outright racism. I mean, we can't have people thinking a total break with capitalism will lead to anything other than death and starvation, now can we, Business Insider? But also, damn those dirty, untrustworthy, irresponsible Greeks, amirite? No. Just no. A blog post on Interfluidity perfectly sums up why not:
Greece is a remarkable country full of wonderful people, but along dimensions of development and governance, the place is plainly pretty fucked up. It has been fucked up that way for a long time, for decades at least. This has never been secret. Anyone who has visited Athens knows it has far more in common with Bucharest or Istanbul than with orderly Western European capitals. In the run up to Greece's joining the Euro [i.e., abandoning their national currency in favor of the European Union's joint currency], everyone who wanted to know knew that Greece's qualifications to join the Eurozone were, shall we say, ambitious. Mainstream establishment banks "helped" Greece and other Southern European countries with accounting fudges that, while perhaps obscure, were not secret even at the time. Despite protestations when these deals hit the news in 2010 that officials were "shocked, shocked", they were explicitly blessed by the agency that compiles the statistics on which Eurozone entrance was based in 2002 and Greece's gaming was extensively reported in 2003 (ht Heidi Moore, both cites). The Euro was and ought to be primarily a political enterprise. In order to sell the common currency to Northern European elites, its architects required Eurozone members to meet strict "convergence criteria" and especially the requirements of the Stability and Growth Pact. But in practice, those criteria have always been interpreted flexibly. Most Eurozone members have broken their promises at one point or another, including both Germany and France. The Euro was a unification project, and erred (not unreasonably, I think) on the side of building a big tent.
Emphasis added because this is really important, my fellow navel-gazing Americans: the Eurozone and its unifying currency has always been about consolidating political power through economic power. That is, the whole point of the European Union is to be a single political union, not "a single monetary and economic one," as former ECB president Jean-Claude Trichet screamed it was when denying Greece the courtesy of debt restructuring. As we'll see, the presence of a unifying currency (the Euro) only benefits the rich members, while shitting on the poor members, despite all the promises to the contrary.
In simpler terms, what this means is that "the Eurozone" is like Europe's version of the "United States." Europe is a a lot of countries in a similar way as America is a lot of States. "Unifying" those smaller, disparate regional communities into one larger group of people has the effect of creating an even more powerful entity than all those that previously existed, but without being accountable to the smaller or less powerful constituent members. If the individual pieces of that entity all like, trust, and cooperate with one another, this kind of consolidation is a win-win, the very best of human ingenuity and empathy. But when there is animosity, resentment, or coercion between those groups, creating a larger super-group is bound to be, well, "problematic," to put it mildly. This is pretty obvious stuff to anyone who's ever tried playing a board game at a party one night with someone they can't stand. And just as with the Euro, the value of a US dollar goes a lot farther in some States than it does in others, which tends to be good for richer States and bad for poorer ones.
Now, the way geopolitical power works today (in the model that world governments and nation states still operate under and have existed in since the Peace of Westphalia and the end of feudalism), is that, in basic terms, the amount of political power an entity such as a country has comes in part from sheer geographic size and in part from the unification of the beliefs and goals of the people in that geographic region. In other words, the more people in a single physical space that believe the same things, that want the same things, who make their goals the goals of their neighbors, the more political power that group has. If that unification of belief and goals is missing, there is, of course, an alternative: violence. Someone doesn't agree with you? They won't do what you want voluntary? Just force them to!
This is why empires colonize. It's not rocket science, people. An empire is simply a nation state with a lot of people "belonging to" it (whatever that means) who have a lot of weapons and who use those weapons to project the power those weapons give them outside of their own home. In other word, they're bullies. This rather bluntly describes the political foreign policy objectives of the United States and most of the richer Eurozone members like England, France, and Germany, and has throughout much of history. (World Wars. Crusades. Slave trade. And on, and on….) These are colonialist countries; they colonize other territories for the explicit purpose of increasing the amount of power they have.
Forget currency for a minute. Take one more step back, don't think dollars. Think bullets. Forget debts. Think deaths. From a geopolitical perspective, currency and bullets are effectively two sides of the same coin. Whoever has the bullets sets the economic terms. The remarkable difference between the "barbarous" days of pre-history and today's modern "civilization" is that, today, we have many more and different tools of violence and coercion than just big swords or guns (although we have those, too). We have tools like money, or to put it in even more euphemistically whitewashed terms, economic policy.
Which brings us back to the wrinkle that the Business Insider article conveniently overlooked: how did it come to be that the troika was able to just unilaterally decide that Greece had to pay back the debt that Goldman Sachs and other private sector banks actually incurred? How did that even happen? That's like if you go out to dinner with three rich guys who all want to eat at a 5-star hotel restaurant (hey, they can afford it), and you want to go to a corner deli (because that's the only thing within your budget), and somehow y'all hit up the 5-star hotel restaurant but you're the one holding the bill at the end of the night. Like, hold the fucking phone, ya know?
The Interfluidity article described the issue here really nicely:
The European financial system was architected to make lending to Greece — and Spain and Portugal and Italy — a money machine for bankers with little career risk over a medium term. Sketchy credits tend to punch above their weight in terms of volume of issuance, so there was a lot of nice paper to buy. The bankers who lent to these states understood perfectly well that there was in fact a long-term risk, an uncertainty, a constructive ambiguity. They lent anyway, and took home very nice salaries and bonuses for doing so. It was conventional to lend, the mainstream consensus was that credit risk was over and worry warts were old-fashioned, Europe was strong and would work this out. If the worry warts turned out to be right, it was likely years away, IBGYBG.

When the game was up, when the global house of credit cards collapsed in the late Aughts, European leaders had a choice. They had knowingly and purposefully brought weak states into the Eurozone, because they genuinely, even nobly, wished to build a large, strong, United Europe. [Although who really still believes that it was about anything other than the money?] When they did so, they understood there would be crises. A unified Europe, they had always claimed, would be forged one crisis at a time. The right thing to have done for Europe at this point would have been to point out the regulatory errors and misaligned incentives that encouraged profligate lending and enabled corruption and waste among borrowers, and fix those. Banks that had made bad loans would acknowledge losses. The banks themselves would have to be restructured or bailed out.

But "bank restructuring" is a euphemism for imposing losses on wealthy creditors [i.e., "bank restructuring" is a way to say that those rich guys who stuck you with the bill should actually have to pay their own share of said bill]. And explicit bank bailouts are humiliations of elites, moments when the mask comes off and the usually tacit means by which states preserve and enhance the comfort of the comfortable must give way to very visible, very unpopular, direct cash flows.

The choice Europe's leaders faced was to preserve the union or preserve the wealth, prestige, and status of the community of people who were their acquaintances and friends and selves but who are entirely unrepresentative of the European public. They chose themselves. The formal institutions of the EU endure, but European community is now failing fast.

It is difficult to overstate how deeply Europe's leaders betrayed the ideals of European integration in their handing of the Greek crisis. The first and most fundamental goal of European integration was to blur the lines of national feeling and interest through commerce and interdependence, in order to prevent the fractures along ethnonational lines that made a charnel house of the continent, twice. [Two World Wars leaves a bunch of scars, after all….] That is the first thing, the main rule, that anyone who claims to represent the European project must abide: We solve problems as Europeans together, not as nations in conflict. Note that in the tale as told so far, there really was no meaningful national dimension. Regulatory mistakes and agency issues within banks encouraged poor credit decisions. Spanish banks lent into overpriced real estate, and German banks lent to a state they knew to be weak [that is, they lent to Greece]. Current account imbalances within the Eurozone — persistent and unlikely to reverse without policy attention — implied as a matter of arithmetic that there would be loan flows on a scale that might encourage a certain indifference to credit quality. [Which is to say, the math doesn't equal out. Somewhere, someone's debt is going to be forgiven. The question is whose? The rich banker shitfucks, or yours?] These were European problems, not national problems. But they were European problems that festered while the continent's leaders gloated and took credit for a phantom prosperity. When the levee broke, instead of acknowledging errors and working to address them as a community, Europe's elites — its politicians and civil servants, its bankers and financiers [the Goldman Sachs, the hedge funds, the corrupt politicians, the guys who just said "IBGYBG" and made off with mountains of cash in the process] — deflected the blame in the worst possible way. They turned a systemic problem of financial architecture[, an architecture that, due to the unaccountability of the big banks, systemically incentivized major corporate fraud that reached a head in 2008,] into a dispute between European nations. They brought back the very ghosts their predecessors spent half a century trying to dispell. Shame. Shame. Shame. Shame.

[…]

With respect to Greece, the precise thing that European elites did to set the current chain of events in motion was to replace private debt with public during the 2010 first "bailout of Greece". [The taxpayer got stuck with the bill. Again. And this is that bait-and-switch again! How did they just "replace" it???] Prior to that event, it was obvious that blame was multipolar. Here are the banks, in France, in Germany, that foolishly lent. Not just to Greece, but to Goldman's synthetic CDOs and every other piece of idiot paper they could carry with low risk-weights. In 2010, the EU, ECB, and IMF laundered a bailout of mostly French and German banks through the Greek fisc. Cash flowed into Greece only so it could flow out to rickety banks. Now, suddenly, the banks were absolved. There were very few bad loans left on the books of European lenders, everyone was clean, no bad actors at all. Except one. There were the institutions, the "troika", clearly the good guys, so "helpful" with their generous offer of funds. And then there was Greece. What had been a mudwrestling match, everybody dirty, was transformed into mass of powdered wigs accusing a single filthy penitent [the Greeks] (or, when the people with their savings in just-rescued banks decide to be generous, a petulant misbehaving child). [antidote]

[…]

But don't the Greeks want to borrow more? Isn't that what all the fuss is about right now? No. The Greeks need to borrow money now only because old loans are coming due that they have to pay, and they have been trying to come to an agreement about that, rather than raise a middle finger and walk away. The Greek state itself is not trying to expand its borrowing. Greece's citizens and businesses would like to expand the country's borrowing indirectly, by withdrawing Euros from Greek banks that the Greek banks won't be able to come up with unless they are allowed to expand their borrowing from the ECB. That is, Greece's citizens are in precisely the place France's citizens and Germany's citizens were in 2010, at risk that personal savings maintained as bank deposits will not be repaid. Something was worked out for French and German citizens. Other than resorting to the ethnonational stereotypes that European elites have now revived in polite company, what is the justification for a Greek schoolteacher losing her savings that wouldn't have applied just as strongly to a French schoolteacher five years ago? Because Greeks are responsible, as individuals, for what the governments they elect do? Well, then I deserve to be killed for what my government has done in Iraq and elsewhere. Is that where we want to go?
Put another way, France and Germany and the United Kingdom and Belgium and all these richer EU member countries didn't get stuck with massive amounts of public debt when their banking systems came to a screeching halt due to the very same kind of banker malfeasance and political corruption that's been plaguing Greece. Have a look at this chart showing the differences between the various "recoveries" that the troika's "helpful" policies have provided for different EU member states: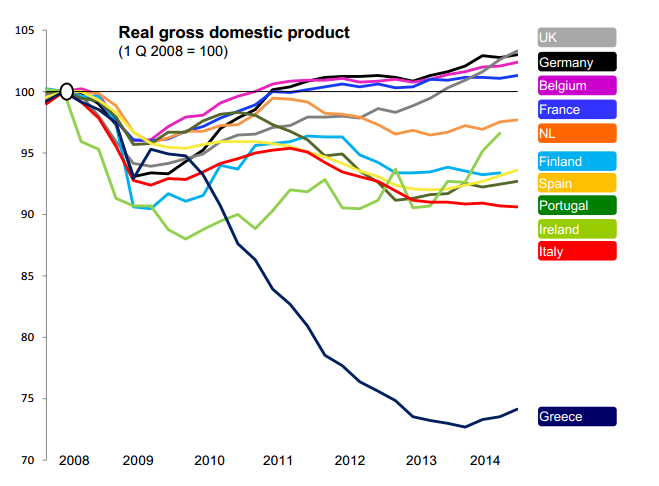 That is to say, in the version of the three-rich-guys-take-you-out-to-dinner-story for French or German citizens, you (the citizen) didn't get stuck with the bill. But in that version, you're French, or German, or English. You weren't Greek. Only in the Greek version of this story does the regular citizen, the worker, the taxpayer, only in the Greek version, the version of the story featuring an already-poor country, it's only in that version where you get stuck with the bill at the end of the night. Because fuck Greek people, right?
And this is the ultimate answer to the puzzle of how the troika saddled Greek with public debt: because they had the political and economic power, backed by many, many more bullets than Greece has, to do it. When you peel away all the layers of bureaucratic and linguistic euphemisms, what it boils down to is the ability to muster sheer force to enact one's will. In the case of the Eurozone, it is in the elite's interest to stir up racist stereotypes of lazy, irresponsible Greeks because that pits Frenchman against Grecian. This is exactly what US politicians do when they invoke racist stereotypes of "welfare queens," conveniently forgetting that welfare was very strongly supported by social conservatives so long as the public funds went only to widowed white women, keeping them in the kitchen and out of the workforce, which was the original intent of social welfare programs. It wasn't until Black women got in on the deal that the narrative was flipped on its head. Point is, if you're a banker who's made mountains of cash while knowingly offloading long-term risk to your fellow citizens, it's way better to have all Frenchmen hating all Greeks than to have all Frenchmen less wealthy than you are (which would be most of them) and all Greeks hating you. Just as if you're a racist white demagogue politician in Amerikkka, it's better to have poor white people hating poor Black people than have all Black people and poor white people hating you together. It's a tactic right out of the classic colonial playbook: divide and conquer.
Hence why the Greeks's collective refusal to accept the newly-horrific terms of their already-heartless creditors (the troika) is so meaningful: it shines the spotlight of culpability directly back on the creditors, avoiding the ethnonational and racial accusations that the capitalist bankers are using to wage their class war. The Greeks are not paying the bill they've been unfairly stuck with, and they damn well shouldn't have to, not just because it's unfair, but because it's actually even worse for them than I've let on so far. Unlike the overly simplified analogy of the dinner bill, the actual Greek people—the schoolteachers that Interfluidity mentions and even the conservative small business owners that Business Insider mentions, I mean the actual humans that make up the Grecian population—these actual humans didn't even get to enjoy the 5 star meal. They've been dealt cuts to social services imposed by the economic policies of their creditors. This latest "No" vote was not just a refusal to pay back debts that weren't even fairly levied against them in the first place, but also to refuse to agree to even worse terms of the deal than they originally had.
Greece is supposedly the birthplace of the model of democracy that America likes to tout as delivering a truly free society. Well, there's certainly something decidedly American about what's happening in Greece, "where, in the Course of human events [it became] necessary for one people to dissolve the political bands which have connected them with another." This idea of national independence that was so eloquently composed by the American revolutionaries when they were colonies has now been adopted by the Greek populace, who correctly feel as though they're being treated like a colony of an invading European (and American) Empire. Whether or not Greece chooses to leave the European Union formally, a so-called #Grexit, as Scotland almost did for similar reasons, remains to be seen, but there's no question now that this will be determined in large part by just how heartless and sociopathic Greece's creditors are.
And while there may be some historical analogies to draw here, many things are also decidedly different between the United States and Greece today. The biggest difference relates to who Greece's creditors actually are, versus who America's creditors really are. Again, Interfluidity hits the nail on the head:
If citizens aren't going to be held responsible for their governments' bad debts, how will sovereigns borrow at all? Well, how do firms raise equity, when an equity claim makes no promise whatsoever that any cash will be returned? People invest in shares not because they have any sword of Damocles to hold over the enterprise, but because they believe the firm will engage in activities sufficiently productive that throwing some cash back to investors will not be burdensome, and because firms know repayment enhances access to continued finance. The same is true of sovereigns like the United States or the UK, which borrow easily in currencies they can print any time. Nothing prevents the US from conjuring $100T USD and handing it out to citizens, engineering a one-time inflation that leaves outstanding bonds nearly worthless. It wouldn't even constitute a default. But the US has organized itself in ways that persuade creditors that their funds will be treated reasonably. Inflexible debt sows seeds of coercion and enmity between borrower and lender. Equity-like arrangements, including "debt" denominated in securities issuable at will by the debtor, require and encourage trust and collaboration. Sovereign debt in particular should always look like the latter, not the former, given the regularity with which government borrowings are disbursed into insiders' bank accounts rather than used to aid the publics who might be pressured to foot the bill.
The United States, the United Kingdom, and the Eurozone can all do something Greece simply cannot, or at least cannot if it remains agrees to remain under the strict control of the troika as things were until now: Greece cannot arbitrarily create more money. Remember, the United States can just print more money. Literally, that's what the Fed does. If there's a need for more dollars, the Fed just decrees, like God Himself, that the money exists, and it does. Why can't Greece do that? Because Greece has basically no power in the troika; the IMF and the ECB are not Greek institutions. In contrast, the Fed is an American institution, so if the American government finds itself lacking dollars, it does not need to petition some external actor to create more of them. It just creates those dollars itself.
What's bizarre here is that Britain has basically the same situation as the United States, because they trade in Pounds Sterling, not Euros, even though they're a Eurozone member. Strange, right? What gives London the right to set its own economic policy, to decide its own monetary interest rate, while other Eurozone member states like Greece are forced to adopt the policies of the (largely British) troika? Again: bullets.
In other words, Greece's creditors are, of course, the richer European countries and—surprise, surprise—the American government and its corporate puppet masters through their influence at institutions like the IMF (which is headquarted in Washington, D.C., by the way). Here's what Interfluidity has to say about that:
Blaming victims for having insufficiently perfect leaders is standard fare for apologists of predation. Unfortunately, understanding this may be of little comfort to the disemboweled prey.

Europe's creditors are behaving exactly as one might naively predict private creditors would behave, seeking to get as much blood from the stone as quickly as possible, indifferent to the cost in longer-term growth. And that, in fact, is a puzzle! Greece's creditors are not nervous lenders panicked over their own financial situation, but public sector institutions representing primarily governments that are in no financial distress at all. They really shouldn't be behaving like this.

I think the explanation is quite simple, though. Having recast a crisis caused by a combustible mix of regulatory failure and elite venality into a morality play about profligate Greeks who must be punished, Eurocrats are now engaged in what might be described as "loan-shark theater". They are putting on a show for the electorates they inflamed in order to preserve their own prestige. The show must go on.

Throughout the crisis, European elites have faced a simple choice: Acknowledge and explain to electorates their own mistakes, which do not line up along national borders of virtue and vice, or revert to a much older playbook and manufacture scapegoats.

Such tiny, tiny people.
Tiny people. With fat wallets. Holding big guns.
Just say OXI.